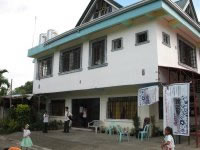 The Mount of Olives Missions ministry is committed to teaching children, equipping pastors and spreading the Gospel of Jesus Christ. We do this through sound, Biblical education, our GAP Ministry for pastoral training and mentoring, and outreach to the community.
Mt. of Olives Blessed School is committed to developing total persons who are spiritually, physically, mentally, socially and morally balanced. We also intend to prepare every student for whatever role he may be currently playing or whatever future role he may play in his home and in the country.
It is our vision that our learners recognize as well as practice Christian values in their daily lives. The children enrolled in our school are there because of scholarships from benefactors.
Learn more about the Mt. of Olives Blessed School
Ministering to the families of students in our school
Through Mt. of Olives Blessed Church, we reach out to the families of the children we gather into the fold. The help we give not only takes some load off the parents' shoulders when it comes to school expenses, it also gives them the reassurance that there is indeed a God who loves them and who looks after them.
Feeding hungry kids
Each Sunday afternoon is a chance for hungry kids to feed their stomachs and their minds. Teachers from various levels teach the kids who come how to read and write. Apart from learning their ABCs and 123s, the kids also discover truths about the Gospel which they can use to strengthen their spiritual foundation. Enrichment activities about what they learn from the biblical teachings come in the form of coloring activities involving biblical characters.
Learn more about the Mt. of Olives Blessed Church
Mentoring pastors who have little formal Biblical training
Through our GAP (God's Appointed People) Ministry, we help pastors who have little or no formal Biblical training become confident and skilled in spreading the message of salvation and the love of Christ. With over 130 pastors who are members of GAP, we hold monthly meetings in different locations all over the country to be there for one another and to learn practical techniques on how to become effective as messengers of the Gospel.
Learn more about the GAP Ministry