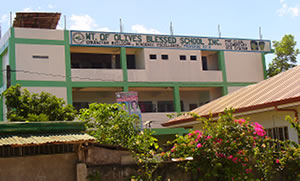 Mt. of Olives Blessed School is a ministry of the Mt. of Olives Full Gospel Blessed Church. The school and the church are located in Santa Cruz, Laguna, Philippines.
The school is dedicated to providing students a learning environment that focuses on the total development of an individual. As such, we make it our commitment to spiritually, physically, mentally, socially and morally develop total persons. It is also our intention to prepare every learner for whatever role they currently play or of whatever role they made perform at home and in the country in the future.
More importantly, Mt. of Olives Blessed School aims to develop individuals who not only know Christian values but exemplify them in their day to day lives. Thus, Mt. of Olives Blessed School education revolves around Jesus Christ.
We believe that true education should be able to let the learner meet life's situations and view life and life events from the perspective of our Creator, as written in the Holy Bible.